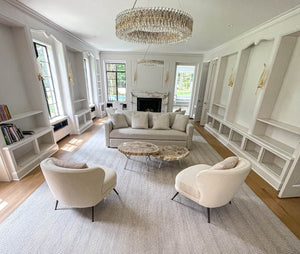 ABOUT
Since our humble beginnings in 2012, L&M has set a new bar for custom carpet design. Now a nationwide provider, proudly serving clients across the entire country, our founding dedication to service and the unparalleled quality of our goods remains our grounding mission.
History
Gary Shafran founded L&M from his New Jersey home in 2012. Named after his wife, Laurie, and his son, Matthew, L&M has always been grounded on a level of personalization that sets it apart from other custom carpet design houses.
Behind the Scenes
Meet The Team
Over the past 40 years, L&M founder Gary Shafran has become a seasoned expert within the home textile industry.
Learn More
Please note that we only work with trade professionals such as interior designers and architects.
We have two showrooms. Our flagship showroom is located in White Plains, New York and our regional showroom is in Charleston, South Carolina.
New Zealand Wool - A long, soft fiber that creates well-defined patterns.
Indian Wool - An economical, short fiber that appears more rustic and natural.
PET yarn - Recycled polyester. This yarn looks and feels like wool but is extremely cleanable and can be used for both indoor and outdoor spaces.
Leather - We offer a beautiful variety of luxurious and smooth leather rugs in a wide range of colors and weights.
Mohair - A long, smooth fiber made from the hair of the Angora goat and notable for its durability, high luster, and sheen.
Alpaca - A natural fiber harvested from the Alpaca. 
We offer a wide range of color options. There are a number of ways to reference colors with L&M: ARS 600 pom box, Pantone color wheel, Paint chips, and fabric cuttings.
Samples are available by request.
We are proud to offer nationwide shipping across the U.S.