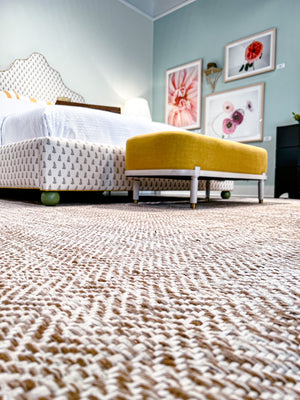 Gary Shafran founded L&M from his New Jersey home in 2012. Named after his wife, Laurie, and his son, Matthew, L&M has always been grounded on a level of personalization that sets it apart from other custom carpet design houses. Instead of passively showcasing L&M's carpet assortment on the shelves of retailers, Gary set out with a unique mission to work directly with interior designers, architects, and trade professionals.
Up until 2021, Gary sold and serviced L&M carpets to local designers throughout the Northeast from his SUV without the aid of an assistant or a showroom. It is Gary's passion and dedication to his clients that led to L&M's success in becoming today's leading custom carpet service in the Northeast. 
In July 2021, L&M entered an exciting new chapter of growth by partnering with industry veteran Brian Kanter, the third-generation owner of Kanter's Carpet and Design Center. Through this partnership, L&M has expanded to house its own flagship showroom, warehouse, and in-house services such as white glove delivery, cut and hand-sew fabrication, and expert installation.
In 2022, we announce our first licensee partnership with the acclaimed interior designer, Celerie Kemble. A Harvard graduate, Kemble spent her childhood learning the art of design from her mother, Mimi Maddock McMakin, and naturally developed the same taste for creating the unique and thoughtful interiors she's now known for. With two decades of experience within the Home industry, Celerie has cultivated partnerships with companies such as Schumacher Fabrics, Woodbridge Furniture and Arteriors Lighting.
Now celebrating our tenth year in business, we at L&M are excited to continue to broaden our reach, offering our custom made carpets, nationwide.